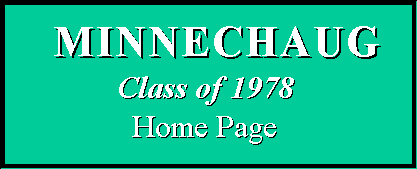 ---
This page contains news items concerning Minnechaug alumni. If you have an article to submit, please let me know!
---
Home for Holidays, Iraq on his Mind
12/25/2003, from the Springfield Republican newspaper
By ETTA WALSH Staff writer
Instead of waking up in Baghdad this morning, Army Reserve Capt. Stephen T. Weatherbee (ed. note: class of 1978), 43, of Granby, is spending Christmas Day where he has longed to be since February - home with his wife, Christina, and three daughters. It took three days to make it home, from Iraq to Kuwait to Germany to Baltimore and then Bradley International Airport in Connecticut. But that's all right with the operations officer for the 414th Civil Affairs Battalion out of Utica, N.Y.
How does it feel to be home, even just for a visit? "Fantastic," said the Bronze Star winner, whose leave ends Jan. 5. Weatherbee was called up in February and has been in Iraq since April as part of the Army's Civil Affairs and Psychological Operations Command, which is helping rebuild Iraq. As much as he enjoys spending the holidays at home, Weatherbee feels conflicted. "I feel guilty being here because I'm leaving my soldiers back there," the captain said. "As hard as it's going to be to go back to Iraq, I want to be with my soldiers."
The 20-year military veteran expects to return home for good in April or May. Weatherbee was awarded the Bronze Star last week for his part in quelling two large-scale demonstrations in Baghdad, near a compound housing the 82nd Airborne. Crowds of about 200 angry Iraqis demonstrated at the compound on two separate occasions, the captain said. Each time, he waded into the crowd accompanied only by an interpreter. "It was on me to go and see what I could do about it," he explained. Both times, he managed to quell the demonstrations before they became riots. "The 82nd was ready to handle things their way," Weatherbee said. "But first they gave me a chance to see if I could settle things down."
While in Iraq, Weatherbee experienced two other personal milestones. He shook hands with President George W. Bush during the commander-in-chief's surprise Thanksgiving visit and watched the Dec. 13 capture of Saddam Hussein from the Joint Operations Center, a mission-coordination location for special-operations forces. He e-mailed from Iraq, "Could not think of a better place to be when Saddam's capture was announced." He called the capture "a momentary boost" for morale, noting, "Life for the (Special Operations Forces) will continue on as if nothing has changed. The significance of the event is noted, and for a few moments, a victory has been realized. Back to work." And even though a lot has been accomplished, there's still more work to do, according to Weatherbee. Decades of neglect by Saddam Hussein's corrupt regime, not warfare, is responsible for most of the infrastructure collapse in Iraq, he said in a cell-phone interview arranged by the Army. Buildings are old, water filtration plants don't work and sewerage systems, where they exist at all, are inadequate, he said. "The list is almost endless," he said. And a major complaint among Iraqis, the lack of reliable electricity, is especially vexing, due to the age and disrepair of the electrical grid and distribution system, he said. "The wiring itself is decrepit," he said, "The system can't handle the capacity it has right now." It would be simpler and easier to build a new electrical system from scratch, he said. The majority of the 414th is serving in Afghanistan. In Iraq, the unit has 22 Army Reserve experts in everything from veterinary medicine to police work. In civilian life, Weatherbee is a communications engineer for Verizon Wireless.
Operating in the Sunni Triangle near Baghdad International Airport, members of the 414th act as project managers, assessing community needs and then hiring contractors to get the work done, Weatherbee said. So far, the unit has rebuilt 25 schools, repaired clinics and hospitals and restored irrigation for a farming community west of Baghdad, among other things, the captain said. "Water is a big thing out this way," Weatherbee said. "The irrigation thing seems to be more important than any other project." Since April, the unit has completed more than 82 major projects and "countless" humanitarian tasks totaling $1.8 million, according to Weatherbee - and done it under fire. Two members of the 414th have been wounded and evacuated from Iraq, he said. Battalion members frequently find unexploded weapons in public areas, according to Weatherbee. "I can't emphasize it enough. This is an extremely difficult job done under extremely difficult circumstances - and I never hear a complaint," he said He added, "These are brave young men and women. It's an honor to serve with them." Along with the dangers of combat, the 414th copes with working in a physical environment and culture that is completely foreign, along with language difficulties, he said. "It's a hurdle that has to be surmounted every day," Weatherbee said. Unit members spend a lot of time negotiating with sheiks, imams and village leaders through interpreters before any project can be started, which can be frustrating for Americans with a "can-do" attitude, he said.
Leaving his family behind is another. "I'm missing my family, of course," the Army reserve officer says of wife Christina Tardiff-Weatherbee and daughter Amelia, 21 months, who live at 122 Taylor St., and daughters Kristin, 13, and Erika, 16, of Palmer. "The first four months here were sparse, communications-wise. Few phone calls and little or no e-mail, mostly because we were living out of our rucksacks," Weatherbee wrote in an e-mail. "Now, however, we have access to e-mail and phone service on a regular basis. Communications have made all the difference in terms of morale. My wife can attest to that." Christina Weatherbee agreed. "Communication has been a big deal for us. At least I know he's OK when I can talk to him." Family and friends e-mail and write to her husband, and even send him packets of ketchup and Tabasco to spice up his food, she said. The unexpected Thanksgiving visit to Iraq by President Bush was a confidence-booster too, she said. "The guys were thrilled to see him there," she said. Keeping up morale is key to keeping up the difficult task of rebuilding Iraq, according to Weatherbee. "It's no secret that there are elements over here who would like to see us fail," he said. "Another element would not like to see a democratic government put in place." Noting that there was no free press or free speech allowed under Saddam, Weatherbee said, "The population has been operating in a vacuum for the last 20 to 30 years." Still, the former Marine thinks Iraq is making "baby steps towards democracy" under U.S. protection. Despite the danger, the hardship and the loneliness of his mission, Weatherbee said the sacrifice is worth it. "I experienced the liberation of a country," he said. "That's something everyone should experience once in their lives. We're providing an entire people with the ability to control their own destinies."
---
Photos offer Flash of History
Wednesday, October 19, 2005, from the Springfield Republican newspaper
By DAN MUSE dmuse@repub.com
WILBRAHAM - Growing up in this small town during the 1960s and'70s, Joe Roberts' interest in history began with his own house and grew outward.
He and his family lived in a farmhouse more than a century old. Roberts would pore over photographs of the house taken at a time when photography was still new, and he would imagine the world of those images.
Now, years later, with great assistance from the latest in photographic technology, he has managed to build a Web site archiving around 200 antique photographs of the town of Wilbraham. The images capture dozens of the major buildings in town, including churches, the library and police and fire stations of years gone by.
"What I'm really trying to do is preserve this history," said Roberts. "Looking at these things, gathering the pictures, you get to find out a lot of things that you never would have. You get these little bits and pieces, things that only exist in people's heads, and when they're gone, they're gone."
It has taken Roberts years to amass his collection, and he has had to pull from remarkably disparate sources to find the treasures. They cover not only simple snapshots, but also postcards and brochures featuring such local landmarks as the Red Bridge Dam.
"Occasionally, I'll get a call, with somebody saying they have a new batch of photos. Even if they have only two, three, four pictures, it can be helpful. Especially if they're centered around one house, or a certain group of people, it's the best, because you know those are completely unique. If you don't save those pictures, they're going to be lost," said Roberts.
In addition to tips from visitors to his Web site, Roberts regularly searches Internet auction sites such as eBay, where rare photographs sometimes pop up. Even if he has to scrounge for these pictures one-by-one, he said that he enjoys knowing that he is making history live and breathe.
"There have been a lot of histories written about the town; it's well-documented. But with the pictures, it's a more personal feeling," said Roberts. "It's fascinating how much a place can change in just a hundred years. Things we don't even think twice about were a major hassle for them. We can walk to the fridge and get a cool drink, but back then, they were lucky if they had an icebox."
Though he now lives in Connecticut, Roberts plans to continue searching for new pictures. Only recently, he received a major update from a woman who provided him with more than a dozen 35 mm slides. With the help of longtime Wilbraham residents, the collection will continue to grow.
Robert's collection of Wilbraham photographs can be viewed at www.rocketroberts.com/wilbraham/wilbhis.htm
---
"Back" links and E-mail
Back to the Main Page
E-mail to Webmaster
Home Page of the Webmaster (Joe Roberts)...
---