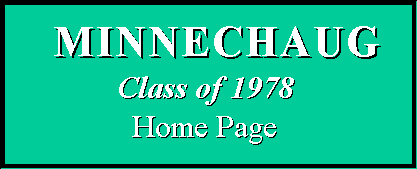 ---
Minnechaug Class of 1981 30th Reunion
The Class of 1981 held its 30th reunion on October 7-8, 2011 in Boston. Details of that event are available here: Class of 1981 30th Reunion.
---
Minnechaug Class of 1979 30th Reunion
The Class of 79 held its 30th reunion on Nov 27th at the Sheraton in Springfield. If you were unable to attend and want to check out the photos, here they are: '79 30th Reunion Photo Gallery.
---
Minnechaug Class of 1978 30th Reunion (Updated 06 July 2008)
Our 30th class reunion was held on 5 July 2008! It was a great night and as usual it went by too quickly. We do however have a number of photos of the event that you can check out: Minnechaug Class of 1978 30th Class Reunion Photo Gallery

The reunion commitee consists of the following people (in no particluar order): Dennis Anti, Lisa Cambo, Bob Schnepp, Chris Howard, Carol Hanson, Joe Roberts, and Noreen Hughes.
Quite a few people expressed enthusiasm about holding a 35th reunion, so there's a decent chance we will have a 35th!
---
Minnechaug Class of 1981 25th Reunion?
I never heard any news about a 25th reunion for Class of 81 (would have been in 2006)...
---
Minnechaug Class of 1980 25th Reunion?
So far as I know, the Class of 1980 did not hold a 25th reunion.
---
Minnechaug Class of 1979 25th Reunion
The Class of 1979 held a 25th reunion on 26 November 2004! You can see photos of the event here: Minnechaug Class of 1979 25th Class Reunion Gallery. Also, keep tabs on plans for 79's 30th reunion here: Minnechaug Class of 1979 30th Class Reunion
---
Minnechaug Class of 1978 25th Reunion
The 25th reunion is now history but what a night! Photos are available for viewing, please e-mail me for details on how to see them.
The 25 year reunion for the Class of 1978 was held on 29 November!
Date: Saturday, 29 November 2003 (Saturday after Thanksgiving)
Time: 6:30pm - Midnight
Location: Hampden Country Club, Hampden MA
Cost: $40.00 per person
Menu:
Social Hour (6:30 - 8:30): Assorted cheese, fresh fruit and cracker table, hot Hors D'oeuvres (cash bar)
Buffet (7:30 - 9:30) Roast Round of Beef w/ assorted mini rolls, condiments and Roasted Red Potatoes, Penne Rigate w/ marinara Sauce, Crudite Station w/ assorted garden fresh vegetables and dressings
After Dinner (10:00pm): Coffee station w/ assorted fresh baked cookies. We will also have two cakes on hand!
Music: DJ Ross "The Boss" McDonald (former WAQY disk jockey)
---
The 20th Reunion for the Class of 78 was held on 18 - 19 July 1998. It was a great time, the night seemed to fly by very fast. The Sunday breakfast was also fun and offered another chance to talk to people that were missed the night before. Only hours after the reunion had ended, e-mail was received from several class members and the feedback was very positive! Based on the feedback, the class will definitely be planning a 25th reunion. The initial thought was to try some kind of outdoor cookout type party. Several new people offered to be on the 25 year reunion committee. It seems far off now, but it will be here before anyone realizes it...
We know for fact that there were some people who really wanted to attend the reunion this past weekend but for various reasons could not. And, we are sure that there are some people that we could not track down that would have wanted to have attended. To try to offer some consolation, there are two items to mention. First, a Reunion Photo Gallery is available on-line (see section just a bit below for details). The second item...
---
20th Reunion Photo Gallery
The 20th Reunion Gallery is now available for viewing. The gallery contains 89 photos of the reunion events (dinner and breakfast). For privacy reasons, the page is not available to the general public; if you want to take a look at the gallery you will have to E-mail to Webmaster to request the instructions on how to get to the gallery.
---
Your Reunion Committee for the 20th Reunion:
Chris Calvert Spaulding
Kim Dernavich Nierenhausen
JoAnne Clarke Stolarik
Lisa Cambo Deane
Steve Koziol
Joe Roberts
In addition, Sharon Usher Strange, David Strange, Rachel Siebert, Mary Ellen Sparks Barker, Greg Barnagian, Greg Zirakian and Scott Southworth have helped out with various tasks.
SPECIAL THANKS TO FRIENDLY'S ICE CREAM CORP. FOR DONATING SUNDAE CUPS FOR THE BREAKFAST!
The adults liked them as much if not more than the kids!
---
The Minnechaug Class of '79 held its 20th reunion on 27 November 1999; it was held at the Marriott in Springfield and was a "cocktail" style reunion.
---
---
"Back" links and E-mail
Back to the Main Page
E-mail to Webmaster
Home Page of the Webmaster (Joe Roberts)...
---