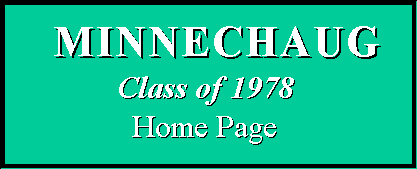 ---
Below are some general notes and information about the Minnechaug Class of '78 Home Page...
Purpose: The Minnechaug Class of '78 Home Page is primarily for the enjoyment of all Minnechaug alumni, especially Class of '78 members!
Updates: The Minnechaug Class of '78 Homepage is updated during my spare time (which like everyone else, I have very little of). At present, updates are being made as information warrants.
E-mail: All e-mail received will be answered. I try to respond within 24 hours whenever possible. Sometimes I am away from a computer for 4 or 5 days... if you e-mail and don't hear back within about 10 days, re-send the e-mail! E-mail is pretty reliable, but not perfect; sometimes things get "lost".
Why didn't you pick www.minnechaug.com for a URL? The real reason? Money. I would have to register the domain name. Then, I would have to set web hosting to use that name. If I were a millionaire, this would not be an issue. Until that day comes, the Minnechaug site will be a sub page of my web site, www.RocketRoberts.com.
Be careful of your Cache! If you "go" to the Minnechaug page and nothing ever seems to be new even after a long time has passed, be sure you are not repeatedly loading up an "old" version of the page from your disk cache! If the page seems to load "lightning fast", it may be that you are getting it from the disk cache. A "true" reload of the page will take 20 or 30 seconds on a 28.8 modem. If you are not sure about this, just click your browser's "reload" button (this will definitely make your browser go out to the Internet to get the latest page).
"File Not Found" Error: If you try to access the page and get a message stating "File Not Found" or "404 Error" or similar, try again, and if it still doesn't work, try a little later on. Sometimes the servers are "down" for maintenance or there may be other problems. Things are pretty reliable, but never perfect...
Content: This page will focus on the positive and comical aspects of past and present activities of Minnechaug Alumni. Although many people love gossip, things like "so-so" is in prison, "that" person is a crack addict, "this" person beat the crap out of "that" person, etc. will not appear here (that's what the e-mail links are for)! The site will in general have a "PG" rating at worst case. Anything submitted for posting that has a good chance of offending the average person will likely not be posted.
Images: All images are either JPEG format or GIF format. There may also be a few animated GIFs. JPEG will be used for pictures, and GIF will be used for graphics. Any moden browser will support JPEG and GIF formats (some may not support the "animation" part of animated GIF files, but the primary image should load OK). As of 9 October 1997, some of the class photos are offered in "high resolution" versions; these are still JPEG files (they were scanned in at much higher resolution). Most of the high resolution images have a horizontal width of 1500 pixels... wider than most any monitor can display at one time. This means that you'll have to use your scroll bars to see the entire picture (if you have image processing software you can reduce the size to your liking). The high resolution images are stunning compared to the "normal" versions... you won't have any trouble seeing the detail on faces of the people in these photos. NOTE: Some browsers (or specialized services like WebTV) will not show the high resolution images any bigger than the normal images. In this case, you will need an image processing program to look at the image in full detail. After you have the image on your screen, use the "Save As" option under "file" on your browser to save the image under the name of your choice. Then open your image processing program and look at the image you have just saved. Most modern multimedia PC's should have no trouble looking at the high resolution images.
"Bells and Whistles": This site uses mostly "common" features of HTML. Use of graphic icons will be minimized to those that add significant impact or usefulness. In short, I will try to keep this page "clean" looking and away from the "bandwidth pig" category. In other words, it is designed to load up quickly, and emphasize content over glamour. Those files which are necessarily large (like the pictures) are always offered as links so you are never "forced" to wait for things to load up (nice when you are just checking the site for updates).
E-mail and URL formats: E-mail addresses and URLs in the tables of the Minnechaug page are in the form of "links". The reason for showing the e-mail addresses as links is for convenience; most browsers will automatically pop up an e-mail window when you "click" on an e-mail link. Because the e-mail addresses are depicted as links, they will appear underlined on most browsers (with the "typical" default options). Some e-mail addresses and URLs make use of the underscore character ( _ ); keep in mind that the "_" character will appear invisible when in the form of a link! This is important if you manually copy down and e-mail address or URL. Remember: blank spaces are not allowed in e-mail addresses or URLs! The following is a valid sample e-mail address:

john_doe@computernet.com

If the above e-mail address is shown as a link, it looks like:

Note that when the e-mail address is shown as a link (above), the underscore ( _ ) between "john" and "doe" is now "invisible". If you copy down the address as:

john doe@computernet.com

it will not work! So be careful about underscores in e-mail addresses. The same applies to URLs. Again, the reason for making the e-mail addresses and URLs links is for convenience: just click on the e-mail address (or URL) and your browser will pop up an e-mail window (or take you to the URL).
Questions?
I'm no expert, but if you have a technical question I'll try and help. Just E-mail me!
---
"Back" links and E-mail
Back to the Main Page
E-mail to Webmaster
Home Page of the Webmaster (Joe Roberts)...
---