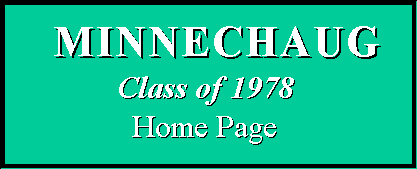 ---
What's New as of 19 Jan 2007
Class of 1979 30th Reunion Photos
Check out the photos here: '79 30th Reunion Photo Gallery.
Wilbraham Junior High Scrapbook
I've added the Wilbraham Junior High Scrapbook to this site! It is at Scrapbook. Check out old photos, class writings, artwork, etc!
Mr. Sternberg's biology lecture on Anerobic respiration (1976)
At long last I had time to post this. See the mp3 file on the Memory Trunk page (look under "Fun Stuff, item number 7).
---
"Back" links and E-mail
Back to the Main Page
E-mail to Webmaster
Home Page of the Webmaster (Joe Roberts)...
---