Updated 05 Sep 2012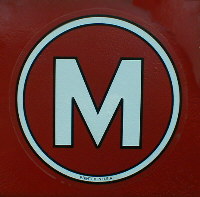 Joe's Farmall M Site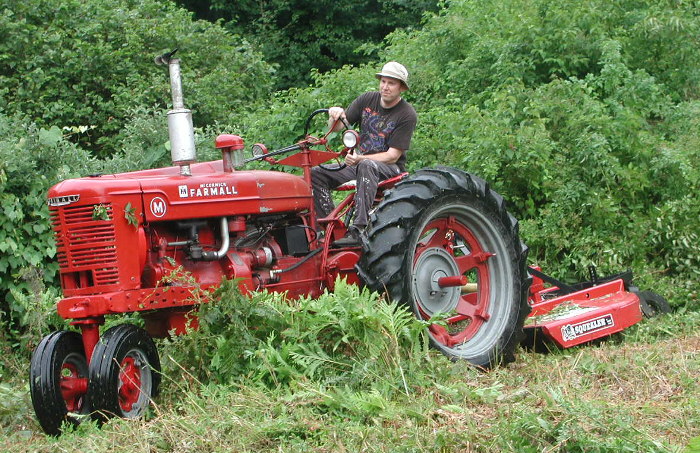 Me cutting brush with the Farmall M and a Bush Hog Squealer (see Farmall M Image Gallery #10 and Farmall M Image Gallery #11for more photos like this).
---
Introduction
This site focuses on my activities with a Farmall M Tractor. In August 1999 I decided to make an investment in a 1949 Farmall M tractor for my first tractor. I am in the process of restoring it; however, the tractor will not be for show only (its going to have to do some real work as well). In addition to my tractor investment my brother purchased a 1968 Massey-Ferguson backhoe which will eventually be mounted on the tractor. The backhoe is undergoing a rebuild and restoration also.
The main purpose of this site at this time is primarily to provide a record of my experiences with the tractor and also to provide a number of photos that may be useful to others who are working on a Farmall M. I am not a tractor expert, nor am I an expert mechanic, so please do not expect me to be able to answer detailed questions. Fortunately, I have family members and friends who collectively know a lot about engine work, and we also have a number of tools needed for restoration work (sandblasters, power washers, hydraulic presses, welding equipment, etc.).
My Farmall M: Purchased in 1999
My Farmall M is a 1949 model and in decent condition for its age. The purchase price of $2300 was not a bad price for this region of the country. I knew that I was going to be putting a fair amount of time and money into the tractor but it was in running condition; all gears work as well as the PTO and the belt pulley. All sheet metal was in good to very good condition considering the age. For a few weeks I "got to know" the tractor by driving it around our property; I also used it to rip about a half dozen stumps out of the ground. Shortly thereafter the initial period of restoration was begun (mid September). The initial phase of restoration was completed just before Thanksgiving of 1999. The tractor is now running again and will not receive significant further work until the warm weather returns (I do not have a barn to work on it over the winter).
Restoration Activity as of December 1999...
Resoration of this tractor will occur in phases for a variety of reasons. For one, the cold weather is just about here, and I do not have a barn in which to work. Painting work is out of the question for me during the cold time of the year. Finally, I need to spend some time on some of my other interests!
This tractor is being restored in what I call the "right" way. I've seen some tractors that appear to have been powerwashed and painted as a complete unit. This may look nice, but in my opinion it's not the way to go. My Farmall M is being disassembled into individual parts for restoration. All parts will receive a restoration that includes a cleaning, sandblasting (where applicable), repair or replacement, and finally a repaint. Parts that are marginal or worn are being replaced (in some cases new ones are fabtricated).
As of December 1999 I have completed the following:
Bolster assembly: Removed from the tractor. The gear at the top of the steering shaft was a bit of a pain to remove (even with a gear puller). The upper bolster was filthy with dirt, grease and oil that had leaked past the seal; the upper bolster assembly was taken to a local shop and boiled out. After that, further cleaning and light sandblasting was done. "Expandable foam" was put into the places where water might enter and get trapped. Primer and paint was applied. New oil seals were installed. The vertical steering shaft was also removed, cleaned thoroughly and repainted. The bearings were in good shape. The fully reassemmbled bolster assembly (upper and lower with front wheels on it) was so heavy we had to use another tractor's front end loader to lift it back onto the Farmall M frame!
Lower Bolster: The lower bolster was mostly just filthy with large amounts of built up grease. Cleaning it was a pain. The unit was lightly sandblasted, primed, and repainted.
Front wheels: The front tires were removed from the rims. Rims were sandblasted and repainted (inside and out). One tire needed a new inner tube. Tires were remounted and installed on the tractor.
New Bolts: I have replaced large numbers of bolts with grade 5 (higher where applicable) stainless bolts. All bolts are treated with "Never Seize". Bolts which were not replaced (and tapped holes) were fixed up with taps and dies where necessary.
New Gaskets: Every gasket removed thus far has been replaced. These include: oil filter mount gasket, valve cover gasket, various cooling system gaskets, oil pan gasket, upper bolster gasket, manifold gaskets.
Radiator and Cooling System: The radiator on the tractor had leaks and was deemed "beyond easy repair" by a local shop, so I purchased and installed a new one. All cooling hoses and hose clamps are new. The thermostat was cleaned and tested. New coolant and distilled water was added.
Breather tube: The breather tube running from the governor assembly to the head had a bad leak; I obtained a new "used" one, restored it and installed it.
Oil Pan: The oil pan was removed, thoroughly cleaned and restored. The engine was remarkably clean for being 50 years old!
Side Rails: The side rails that make up the frame in the engine area were removed, cleaned, sandblasted, primed and repainted. The front engine mounts (2) were restored in the same manner.
Oil Pump: The oil pump was removed, disassembled, and all parts cleaned. The unit was reassembled and installed once again.
Manifold: The manifold was removed, sandblasted and repainted. New gaskets were installed upon replacement. Note: this manifold was very easy to remove despite some very rusted bolts!
Spark Plugs: All spark plugs were removed, cleaned and regapped.
Brakes: Brake covers were removed, cleaned and sandblasted. The left side brake drum cover was full of dirt and mud; almost as if the tractor was submerged at one point. The brake adjustment bolts were sheared off of both drum covers; I had a local welding shop make repairs. Brake drums were removed and cleaned. New brake bands were installed. Brakes were approximately adjusted; one adjuster broke (siezed threads). A machinist friend fabricated a new part to replace the one that broke (nice to have someone that can do this custom work!). The brakes still need some final adjustment, but they are now much better than the way they were prior to repairs!
Valve Cover: The valve cover was removed, cleaned, sandblasted and repainted. The valve parts were remarkably clean for a 50 year old engine.
Exhaust: The exhaust stack was cleaned and painted. A rain cap was added also.
Obvious items: Things like oil, oil filter, coolant, etc. have of course been changed or replaced.
Cosmetic work: Numerous parts have been fixed up cosmetically. Restoration typically includes removal excess grease and dirt (with cleanser and or powerwashing), sandblasting, and application of primer and paint. Items receiving such treatment include the valve cover, oil pan, breather tube, front portion of engine, cooling system fixtures, fan cowling, upper and lower bolster, grill, hood, oil filter parts, draw bar assembly, front tire rims, manifold and fan.
Basically, the tractor is nearly 100% restored from the water pump forward.
Future Activities
I plan to do a lot more work on this tractor in 2000. I'd like to eventually do an engine rebuild; for now, the tractor runs just fine so I can put this off for a bit. I'd need to do some cosmetic work on the back end of the tractor. A new seat is in order. I plan to replace the electrical system parts where needed. The gas tank needs a restoration (paint job mostly). I would also like to look into getting a "speed reduction" gear for the tractor. On the land we have, even the first gear is a bit fast for some of the work we will be doing. All of this work will take time (and money) of course.
Backhoe: My brother is in the process of rebuilding and restoring a Massey-Ferguson backhoe which will be mounted on he Farmall M. We have the mounting method worked out. The backhoe will be mounted in such a way that it is not a major pain to remove it from the tractor for cases when the tractor has to go to a show or do work where the backhoe would interfere. We do not expect to have the backhoe operational until sometime next year.
July 2000 Update: Work on the Farmall has been slow, primarily because I am in the process of building a small barn. This barn will serve as a work area for the Farmall (among many other activities). We hope to have the barn finished by Labor Day. The main activity regarding the Farmall this year is the backhoe. My brother has made tremendous progress on this massive undertaking. The backhoe frame has been modified to fit the Farmall M; it is now mounted on the tractor. Many of the hydraulic cyclinders have been rebuit. Thanks to a family friend with a massive machine shop, we have been able to replace obsolete or broken parts with new ones that are custom made (this has saved a HUGE amount of money). The backhoe will probably be up and running about the same time the barn is complete. Tests run thus far show that this machine will have considerable capability. In testing of the main boom, we found that it easily lifts the back of the tractor (weighing thousands of pounds) off the ground when the boom is commanded to press down on the ground.
September 2000 Update: The backhoe is up and running! This combination of equipment (Farmall M and the Massey-Ferguson backhoe) makes for a powerful unit. The "christening" of the backhoe was done by ripping out a large stump in the yard (see Farmall M Image Gallery #3 for photos of this activity). What would have been an all day affair (if dug by hand) was reduced to 20 minutes of "work" with the tractor/backhoe combination. We also dug (and later filled back in) a large test hole on the back lot to get experience with running the controls. We do have to add a bit more counterweight to the front of the tractor. When going up a hill, the tractor tends to attempt "wheelies" despite 900 pounds of extra weight up front (danger of a rear rollover is near impossible due to the backhoe being installed on the tractor). There is some more fine tuning to be done, but the initial results are very successful!
May 2001 Update: Restoration on the tractor thus far this year has been minimal (I have a lot planned for later in the summer). I did order and receive the Saginaw 3-point Hitch for the Farmall M. This is one serious piece of gear! It weighs 350 pounds and is extremely well made (it's made as well as something I would do myself: no corners cut). This item was purchased because my brother is purchasing a Del Morino 92 inch cutting deck (use of which requires a 3-point Hitch). We also have (on loan) a post hole digger that needs the hitch. We have yet to try the 3-point hitch out "for real", but based on the way this thing is built I have no doubt it will work as well as it looks.
August 2001 Update: Several things worked on. The water pump packing was leaking (due to a not so good job done by me back when). The front of the tractor was disassembled (steering shaft, radiator, etc, was removed). The water pump packing was replaced. Also, new belts were put on (fan belt and generator belt) while we had this all apart. Finally, the generator was fixed... it was not charging the battery. A local shop found the problem (broken internal wire) and fixed it. The front of the tractor is back together and working well.
June 2007 Update: Have been away from major work on the tractor for a while due to too many things going on! Had a problem with a bad ignition coil, now fixed. Also a bad ignition switch, a bad ignition wire. Gas got gummed up in the carb from sitting too long last year. Most problems fixed now. Added a new image gallery (Carburetor parts, see Image Gallery 12 below).
---
Farmall M Image Galleries
This top level page only contains a few images of the Farmall M. There are a number of image galleries below for your perusal. The contents of the image galleries is in the process of being better organized. Additional image galleries will be added as I work on the tractor and take things apart. Some of the photos within these pages were taken with a first generation digital camera, those images are not as good but still quite satisfactory for the purposes within. I obtained a much better quality digital camera in January of 2000, the photos from this unit are very high quality. All future work on the Farmall M will be documented in extreme detail. See a menu of additional image galleries below.
---
Links and E-mail
e-mail to Joe Roberts
My Home Page: http://www.rocketroberts.com/joe.htm

End of page... come back soon... Aloha!
---